Laser Hair Removal
Our state-of-the-art equipment offers you a gentle, effective, and affordable way to finally remove unwanted body hair. Imagine never having to deal with messy creams, painful electrolysis, tweezing, razor nicks, unsightly rashes, and ingrown hairs!
A concentrated beam of laser light is aimed at the hair; traveling down the hair shaft and targeting the root of the hair follicle. The laser light is absorbed by the pigment, which damages the follicle enough to hinder future growth.
Due to the fact that laser targets pigment, laser hair removal is most effective on dark hair. Grey, red, blonde, and white hairs contain minimal amounts of melanin, and thus are not effectively treated. Our Quanta Laser's newer technology is capable of treating skin types I-VI (fair skin to dark skin), meaning more people can participate in this ground-breaking service!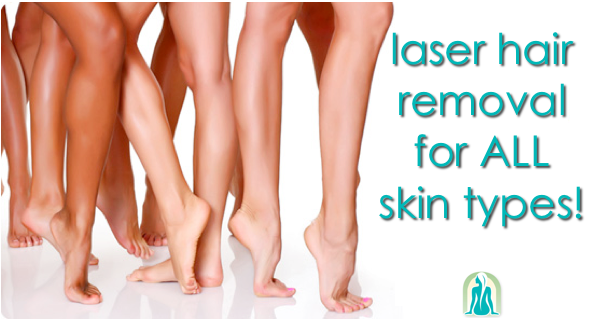 The total number of sessions necessary will vary by individual, but an average of at least 8-12 treatments every 5-6 weeks is required for optimal results.
There are a small percentage of clients that do not respond to the laser hair removal process. The patients with the longest term results show approximately a 50-90% reduction.
For best results, consecutive laser sessions are required to slow hair growth with occasional maintenance treatments being a possibility. With all laser systems, research has confirmed that through the course of treatments, hair is reduced in number, and becomes finer in texture and lighter in color.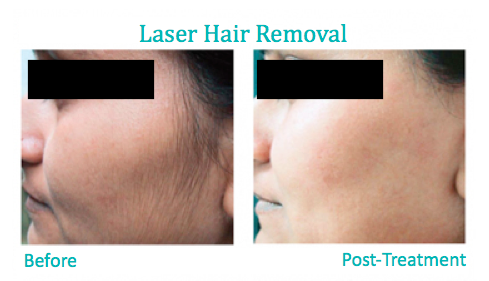 The following conditions are contraindications to laser hair removal, and you may not be treated if any of the following applies to you: history of melanoma, raised moles, suspicious lesions, keloid scar formation, healing problems, active infections, open lesions, hives, herpetic lesions, cold sores, tattoos or permanent make-up in area of treatment, recent use of Accutane, tetracycline, or St. John's wort in the last year, autoimmune diseases such as Lupus, Scleroderma, Vitiligo, pregnancy, trying to get pregnant, or nursing.
Please have the area to be treated cleanly shaven prior to your appointment.
Do not pluck, wax, use a depilatory (such as Nair), or undergo electrolysis in the areas to be treated for at least 6 weeks.
If it is your first appointment, please show up at least 5 minutes before your appointment time in order to fill out the proper forms.
Treatment Areas:
Abdomen Trail
Abdomen
Arms (lower)
Arms (upper)
Back (full)
Back (lower)
Back (mid)
Back (upper)
Beard
Beard w/neck
Bikini
Bikini (extended)
Brazilian Bikini
Breast (areola)
Buttocks
Chest
Chin
Ears
Eyebrows (mid)
Eyebrows (above)
Feet
Hands
Head
Knees
Legs (lower)
Legs (thighs)
Lip (upper)
Neck (anterior)
Neck (posterior)
Shoulders
Sideburns
Underarms
Patches
Laser Hair Removal Before & After Gallery