Top 10 Ways to Prevent Skin Cancer
Just because winter is on its way, protecting yourselves from UV rays doesn't take a back seat to the season. In fact, UV rays are often more intense on gloomy, cloudy days. Don't let mild temperatures or lots of clouds fool you. UV intensity has more to do with the angle of the sun's rays rather than the temperature or the sun's brightness. Even if it doesn't seem especially hot outside, sun damage can still occur.
Here are 10 ways to keep yourselves guarded!
1. Sunscreen often and early: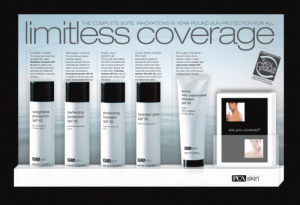 Using a broad-spectrum sunscreen that is at least an SPF (sun protection factor) of 30 is highly recommended. But sunscreen is not fully effective until it is absorbed into the skin. It takes about 30 minutes to sink in, so apply it at least that long before venturing into the outdoors. Reapply every 2 hours, especially in the primarily exposed areas of the neck, scalp, face, and back of hands. Sunscreen is your first line of defense against skin cancer, so use it, but don't solely depend on it! And for the parents out there, check with your pediatrician before applying sunscreen on your little ones!
2. Stay out of bed: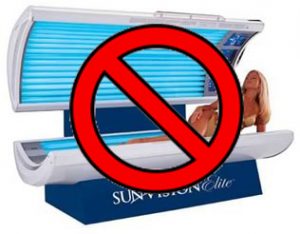 Tanning beds that is! Those who use tanning beds at least once a month increase their risk of skin cancer by 55%! And those numbers become even more threatening for those who begin such tanning regimens in their 20's. The alternative? Spray tans! They create a browner tone by interacting with amino acids on the surface of the skin without involving melanocytes (skin cells that can become skin cancer).
3. Avoid peak sun hours: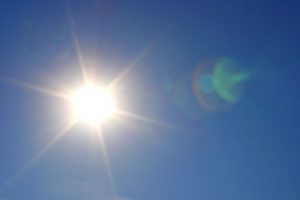 Plan outdoor excursions and adventures earlier or later in the day to avoid when the suns UV (ultraviolet) rays are at their strongest, typically between 10am and 4pm.
4. Check for moles regularly: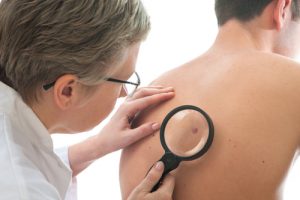 Check your moles on a regular basis, ESPECIALLY if there is a history of skin cancer in your family. The best way is to begin with your face and work your way down, using a handheld mirror for the places that are difficult to see. Be on the lookout for moles changing; any new black-colored moles, changes in size, shape, outline, color, or feel. Notify your dermatologist immediately if you see any changes.
5. Don't get burned: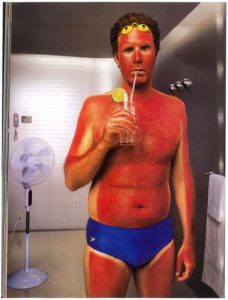 Sounds like a no-brainer, but the damage sunburns cause doesn't disappear when the redness fades. That damage can develop into skin cancer years or even decades later. Your risk of developing skin cancer actually doubles if you've had 5 or more sunburns in your lifetime. Have fun in the sun, but always protect yourself!
6. Shade those peepers: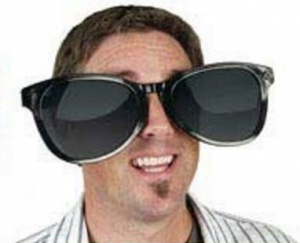 Protecting your eyes is just as important as protecting your skin. The eyes are not immune to sun damage, and can suffer from ocular skin cancer. Excessive exposure to sunlight is a risk factor for everyone, but especially those who are fair-skinned and blue-eyed. Sunglasses that are marked 'meets ANSI (American National Standards Institute) requirements' effectively block 99% of UV rays. Wraparound style sunglasses are best for protecting the delicate skin around the eyes.
7. Cover up: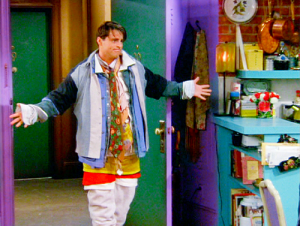 Not all clothing is equal when it comes to providing protection. Take a white t-shirt for example, it only provides protection of the equivalent of an SPF 4 sunscreen. Darker colors or tightly woven fabrics are safer options – polyester and silk in particular are 2 of the best fabrics for protection. Sun-protective bathing suits can help on summer days, and there's also the option of washing clothing in laundry detergent that gives fabric an SPF level of 30, and it lasts up to 20 washes!
8. Protect your grin: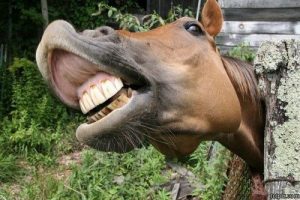 Don't forget your lips! Having an SPF of 10 at best, most lipstick is designed to make your lips look pretty rather than protect them from sun damage. Keep them moist and protected with lip balm. Seek out broad-spectrum balms, lipsticks and chapsticks with an SPF of 30 that block BOTH UVA and UVB rays. Just as with sunscreen, it's important to reapply regularly, especially after eating. As for you lip gloss lovers, it can actually intensify the sun's rays – just like the effect of sun tanning with baby oil – making a bad situation even worse.
9. Keep your hat on: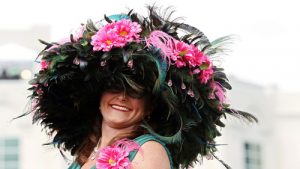 Hats are one of the simplest ways to protect you from sunburns. Hats with a 4+ inch brim reduce UV exposure of the head and neck by 70%. Wearing a hat with a brim all around to protect the scalp, forehead, ears, neck, and eyes is best. Try to avoid straw hats that aren't finely woven since they tend to let UV rays through (as stylish as they may be).
10. Be aware of reflections: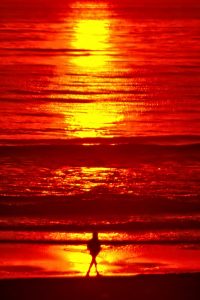 UV rays that reflect off of water, sand, concrete, and even areas that are painted bright white can cause sun damage just as direct sunlight can. So wear sunscreen ALL the time, even in the shade. And don't expect Old Man Winter to protect you – he won't!