What is: LED Light Therapy?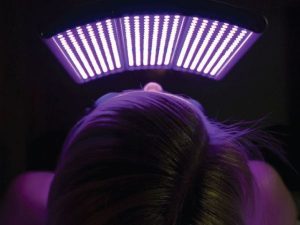 The benefits of LED Light Therapy have been recognized all over the world for thousands of years. Researchers at NASA, for example, have seen significant results from the use of light therapy in the healing process of severe oral sores caused by radiation and chemotherapy, as well as serious burns and diabetic skin ulcers. If it can handle all of that, why wouldn't it be able to handle nagging wrinkles, blemishes, and breakouts? Good news: it can!
LED has the ability to activate the body's natural rejuvenation process, and in turn can boost cellular metabolism, and thereby promotes circulation, stimulates fibroblasts, and results in the increase of collagen and elastin production. If that isn't enough, it can also fade age spots and freckles, refine fine lines and wrinkles, and reduce redness and inflammation! And to add to that already impressive list, it can also aid in increasing adenosine triphosphate (ATP), which a a nucleotide that's essential to cell health, and whose primary job is carrying energy to the cells and allowing them to gather nutrients and dispose waste. Phew!
One of the greatest benefits of this treatment, is that it is noninvasive and nonabrasive. There is no picking, plucking, or extracting, and better yet, no down time!
The Bio-Therapeutic "bt accent" light has been added to our skin treatment family, providing blue and red LED Light Therapy to our valued clients.
Blue Light sanitizes skin and bears healing properties, providing penetrating molecules that react to free radicals and destroy acne bacteria. It's a great, healthy way of treating moderate to severe acne.
Red Light increases cell turnover, which promotes circulation and healing. Experts agree that it seems to be the most effective spectrum when it comes to revitalizing aging skin. It improves collagen production and reduces collagenase, the enzyme that destroys collagen fibers. Red light helps the skin return to its original, glue-like nature, firming and lifting the skin without needing needles, scalpels, or dealing with the pain of recovery time.
We can also provide a combination of the two to pack a double punch with Violet Light.
How We Can Lead Your Skin to a Brighter Future
We suggest 10 LED Light Therapy treatments over a 4 week period, and then once a month for maintenance.
It works best paired with a treatment that offers great exfoliation, like the Livra Microneedling, HydraFacial MD or Microdermabrasion.
All in all, LED Light Therapy helps return injured, damaged cells revert back to their original, healthy state.
DID WE MENTION THERE'S NO PAIN INVOLVED?! WHAT ARE YOU WAITING FOR?!